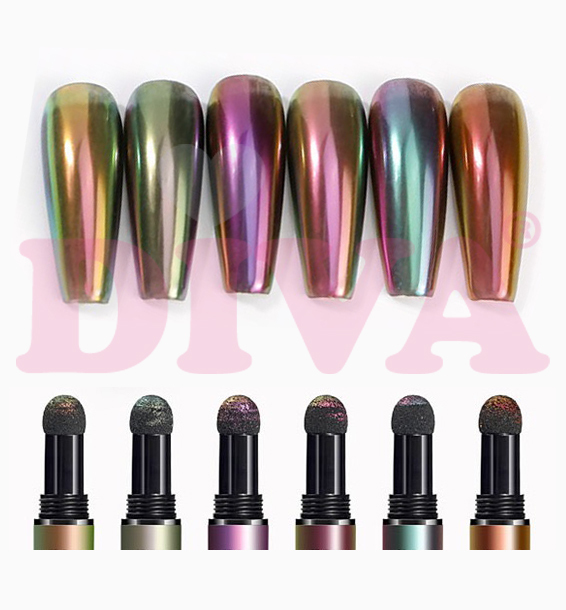 Deze pigmenten in een draai pen zijn leverbaar in 4 series Chrome Cameleon, Aurora, Rainbow en laser. Door de pen te openen zit het pigment gelijk op het kussentje. Dit zijn de fijnste en duurste pigmenten op cosmetische gebied die er verkrijgbaar zijn. Door deze speciale samenstelling is de uitstraling oogverblindend! Het beste resultaat wordt verkregen door zo weinig mogelijk van de pigmenten te gebruiken. Less is more! Deze verpakking is goed voor 30 tot 40 sets.
How to use
Breng de Diva Amazing Black aan hardt deze uit 30 sec in een CCFL lamp of 2 min in een UV 36/48 Watt lamp
Breng hierna de Diva UV Dazzling Top Coat of de Diva Titanium zonder plaklaag aan hardt deze uit 1 min in een CCFL lamp of 2 min UV 36 Watt lamp
Nadat deze is uitgehard het pigment in poetsen tot het gewenste effect verkregen is.
Breng nu Diva Rubber Base Coat aan om het Chrome Pigment goed te verzegelen
Nu de UV Dazzling Top coat of de Diva Titanium aanbrengen om de nagel te verzegelen.
Diva Top Coat goed over de vrije rand trekken.
Uitharden 30 sec in een CCFL lamp of 2 min in een UV 36/48 Watt lamp.
-17%

Diamondline Pigment Pen Holographic Chameleon Rainbow no 1

Diamondline Pigment Pen Holographic Chameleon Rainbow no 1. Door de pen te openen zit het pigment gelijk op het kussentje. Dit zijn de fijnste en duurste pigmenten op cosmetische gebied die er verkrijgbaar zijn. Door deze speciale…

€ 6,95

Diamondline Pigment Pen Holographic Chameleon Rainbow no 2

Diamondline Pigment Pen Holographic Chameleon Rainbow no 2. Door de pen te openen zit het pigment gelijk op het kussentje. Dit zijn de fijnste en duurste pigmenten op cosmetische gebied die er verkrijgbaar zijn. Door deze speciale…

€ 6,95

Diamondline Pigment Pen Holographic Chameleon Rainbow no 3

Diamondline Pigment Pen Holographic Chameleon Rainbow no 3. Door de pen te openen zit het pigment gelijk op het kussentje. Dit zijn de fijnste en duurste pigmenten op cosmetische gebied die er verkrijgbaar zijn. Door deze speciale…

€ 6,95

Diamondline Pigment Pen Holographic Chameleon Rainbow no 4

Diamondline Pigment Pen Holographic Chameleon Rainbow no 4. Door de pen te openen zit het pigment gelijk op het kussentje. Dit zijn de fijnste en duurste pigmenten op cosmetische gebied die er verkrijgbaar zijn. Door deze speciale…

€ 6,95

Diamondline Pigment Pen Holographic Chameleon Rainbow no 5

Diamondline Pigment Pen Holographic Chameleon Rainbow no 5. Door de pen te openen zit het pigment gelijk op het kussentje. Dit zijn de fijnste en duurste pigmenten op cosmetische gebied die er verkrijgbaar zijn. Door deze speciale…

€ 6,95

Diamondline Pigment Pen Holographic Chameleon Rainbow no 6

Diamondline Pigment Pen Holographic Chameleon Rainbow no 6. Door de pen te openen zit het pigment gelijk op het kussentje. Dit zijn de fijnste en duurste pigmenten op cosmetische gebied die er verkrijgbaar zijn. Door deze speciale…

€ 6,95
Contact
Telefonisch Bereikbaar:
maandag t/m vrijdag
10.00 - 17.00 uur
Metoe Nails
0345-612072